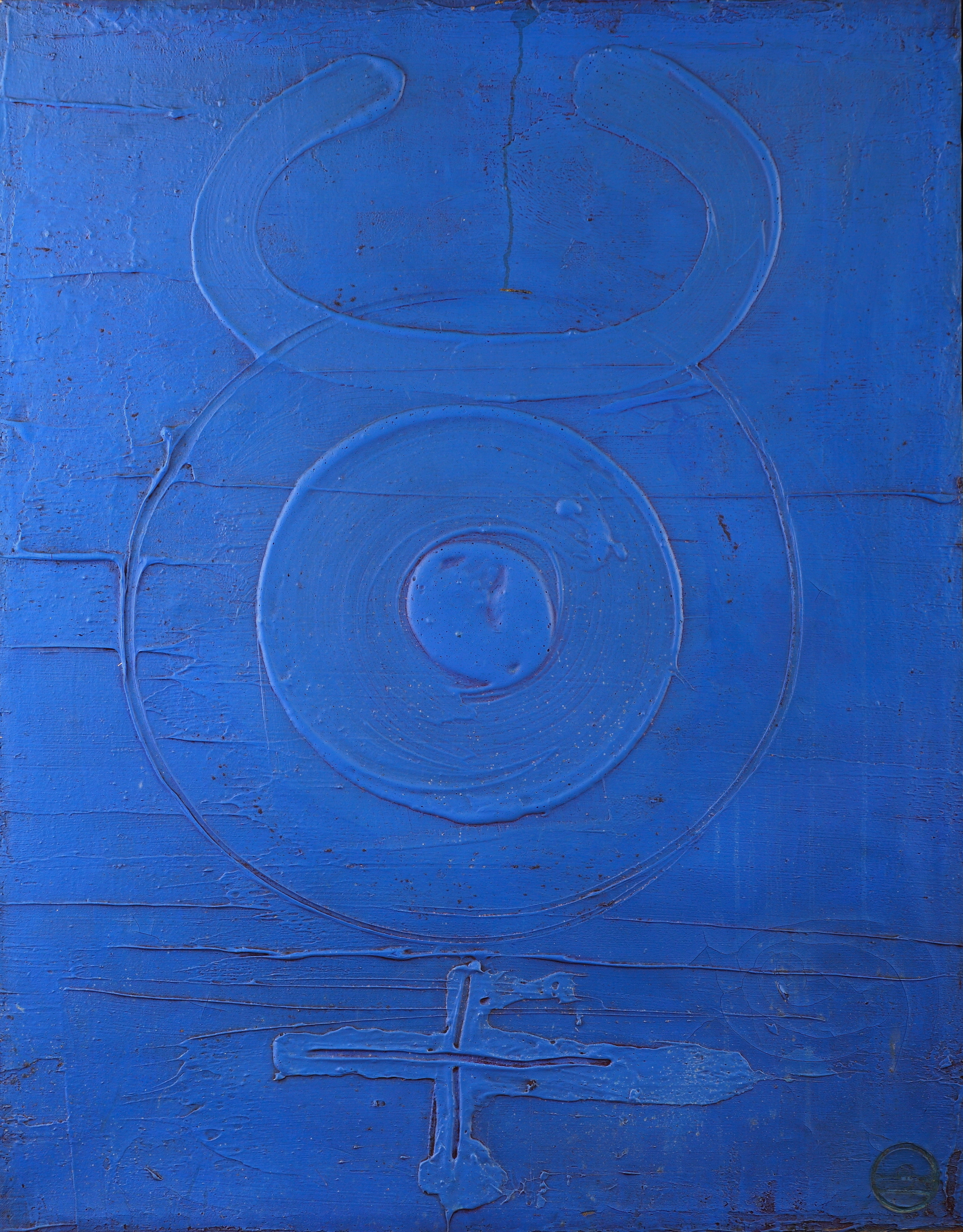 Taurus with Venus
45.87 x 36.02  inches
oil & PVA on canvas
For enquiries and viewing, please contact our gallery.
Biography of Peter Upward ( 1932-1984, Australian )
The abstract expressionist Peter Upward obtained formal art training from RMIT in Melbourne, followed by the Julian Ashton Art School in Sydney, where he studied under John Passmore who nurtured his burgeoning style and talent.  Peter Upward held his first exhibition in 1959 at the Museum of Modern Art, Melbourne.  In 1960, Upward and Passmore were founding members of the Sydney 9 group of abstract artists and exhibited in the manifesto show in 1961.  This group included John Olsen and Clement Meadmore amongst its numbers.
His works were included in the Australian Painting Today exhibition which toured nationally and internationally in 1963-64.  The monumental and arguably the most recognized work by the artist, June Celebration 1960, in the collection of the National Gallery of Australia, shares striking similarity with Abstract, 1961 both enjoying bold gestural calligraphic strokes.
James Gleeson mused on Upward's work, 'There is a certain kind of dancing in which the conscious mind surrenders its vigilance and the body becomes a vehicle for the transmission of emotion…energy that finds release in spontaneous action [bearing] an intimate relationship with the mood or mental state of the moment.  Peter Upwards's [sic] paintings are like the movements of such a dancer.' 
Most evident in Abstract, 1961 is the influence of Japanese calligraphy which pervaded his work in this period.  After he moved to London in 1962, Upward moved away from this style and was instead inspired by action painting, astrology and American beat poetry and jazz.  A number of his works are in the collection of the Art Gallery of New South Wales, which held a survey exhibition of the artist's work in 1984, after his death.
A retrospective exhibition was organized by the Penrith Regional Gallery in 2007 and Upward's work is also represented in other state, corporate and private collections, including those of the Sussan Corporation, Melbourne and James Fairfax, Sydney.
Source: Mossgreen Auctions