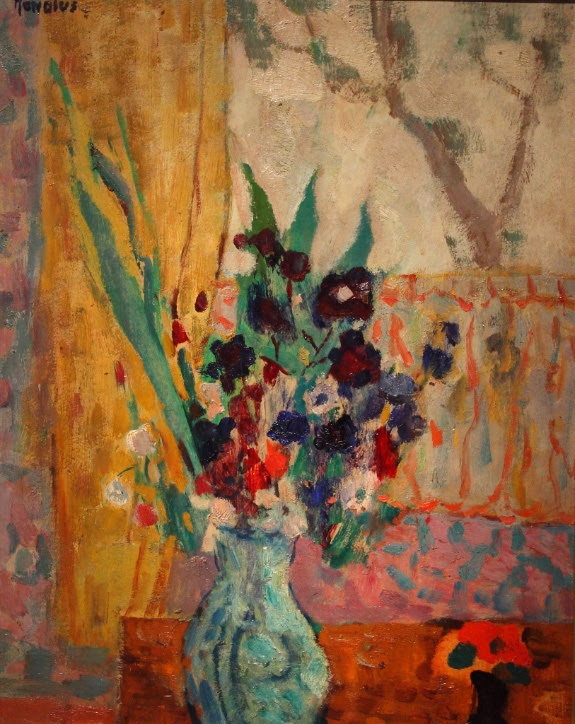 Floral Still Life
20 x 15.75 inches
oil on panel
For enquiries and viewing, please contact our gallery.
Biography of Gerrit Hondius ( 1891-1970, Dutch )
A modernist artist who lived in both Provincetown, Massachusetts, and New York City, Gerrit Hondius studied at the Art Students League with Max Weber and Andrew Dasburg. He also studied at the Royal Academy in The Hague.
He was a WPA artist, whose mural of New York City became well known, and his primary subjects were ballerinas, landscapes, still lifes, and masked figures.
Hondius had over fifty one-man exhibitions in Europe and the United States, as well as showing at New York City venues including the Whitney Museum of American Art, 1924-26, 1932 and 1934; the 1939 World's Fair; Museum of Modern Art; Rockefeller Center; and Graham Gallery, in the 1950s. His work was exhibited posthumously in New York City WPA Art in 1977 at the Parson's School of Design, New York City.
Hondius' work may be seen in the collections of the San Francisco Museum of Art, California; Whitney Museum of American Art; Newark Museum of Art, New Jersey; Reading Museum of Art, Pennsylvania; Norfolk Museum of Art, Virginia; and Provincial Museum, Kampden, Holland.
His papers, sketchbooks, photographs, letters and clippings are in the Archives of American Art, Smithsonian Institution, Washington, D.C. Hondius died in 1970.
Source: Peter Falk, "Who Was Who in American Art"